Lets use this thread to post delivery dates and pics.
I took delivery in southern Indiana on 3.21.14. 4x4 Laramie with 5'7" box and the following options:
Nav, sunroof, air suspension, bucket seats, tow package, protection group, convenience group, rear defroster, block heater, side steps, anti-spin dif, park sense ft/rr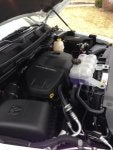 Truck rides/drives great and I cant get over how refined it is - I am coming from a 2010 2500 bighorn with a cummins. Lie-o-meter read 27.8mpg average for the trip home.