Discussion Starter
•
#1
•
Hi all so for the last year I have been debating the idea of getting a TT and spending more family time vacations and long weekends camping now that the kids are a little older (6.5, 5 and 2.5)
I've made up my mind on the exact TT I would get. Grand designs imagine 2800bh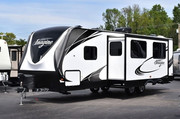 It has a dry weight of roughly 6300lbs. My truck is a 2018 4x4 crew cab 6.4 bed with 3.55 gears. I have a are z series cap so that adds some weight and reduces my payload. Truck has airlift 1000 bags and newer cooper at3 4s tires. I'm GDE tuned and I would most likely upgrade to add the engine braking to the tune to help with the towing. As well as the obvious WDH. And upgrading to a good tire for the TT.
We would probably only every travel max 8-10 hrs away from home. Maybe the odd 1600km trip to Nova Scotia..
I would like the opinions of some experienced ED owners who have a similar size and weight TT. In my research I'm getting a lot of mixed reviews of whether the truck can handle this size and weight of trailer.
This would be my first trailer and I dont have a lot of driving experience towing. But my family's safety is my main concern not speed and time... that being said I have common sense when it comes to driving habits