Discussion Starter
·
#1
·
Posting this here but it is NOT a problem, just an operation of little consequence.
Had to run to the dealer this morning on a hood issue. Shortly after leaving the house I looked down to see this:
Well that got my attention and out came the cell phone. NOTE THE ODOMETER READING. I felt and/or smelled nothing. Decided to take the interstate instead of back roads because I heard regeneration was a problem. No problem. Accelerated and passed for testing reasons. No loss of performance. Watched the display read out the progress. If not for that and one other thing, I would not have a clue. There was NO increase in heat, NO smell, NO sound, No anything unusual except the screen notice.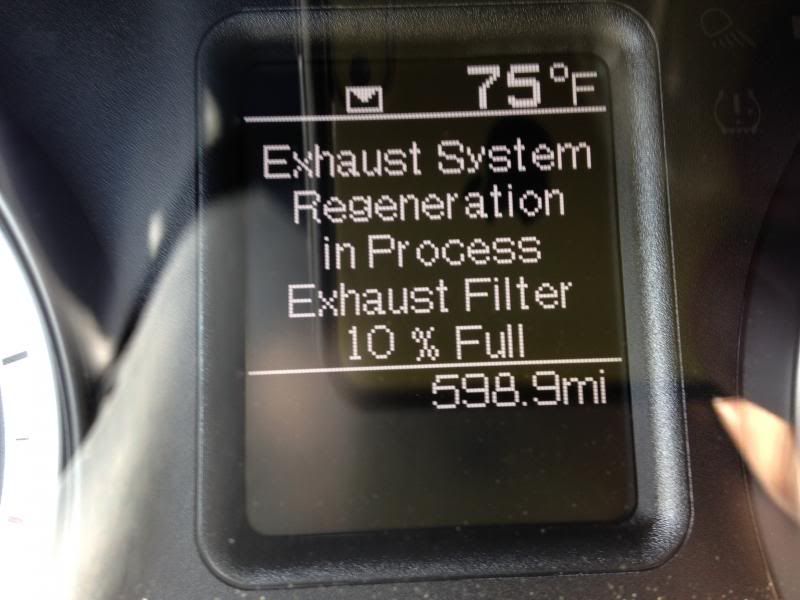 I never really made it to the interstate until it was about over. Look at the odometer now. Then it was over.
12 miles or so. That's it. No big deal but one slight negative. Watched the instant fuel mileage indicator drop from about 28 mpg during the run to around 19 mpg. The total fuel mileage average did drop about .3 mpg. After the regeneration ended it went back to it's normal/ earlier reading in just about 5 more miles.
No big deal.