Discussion Starter
·
#1
·
Here's the trailer. It's a smaller toy hauler with a 7K lb GVR. Did not weight it but empty it is in the lower 5's. Large generator/inverter mounted on the tongue and twin 30# gas bottles probably get tongue weight around 800 lbs. That's a guess as it crushed my scale testing.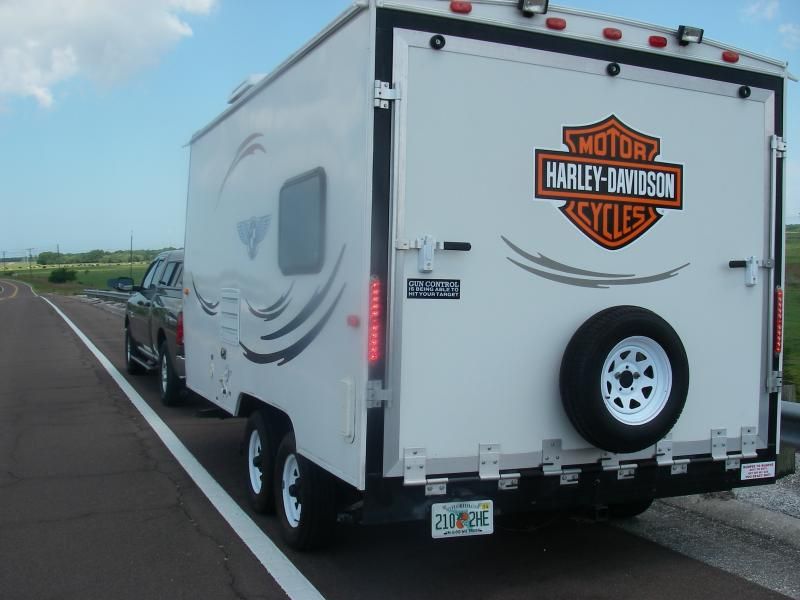 Picked out a 26+ mile loop to run my Ecodiesel pulling the trailer. Mostly flat, there are a few rolling elevations, no traffic lights and speeds can be anything you want. I mostly went 65 mph but often went 70 mph. On a truck pass I pulled over 80 mph.
First test was to hook up with no equalizer bars to take weight off the truck. I call it the "hook and book". Sorry for the smear on the camera lens. All pictures have it.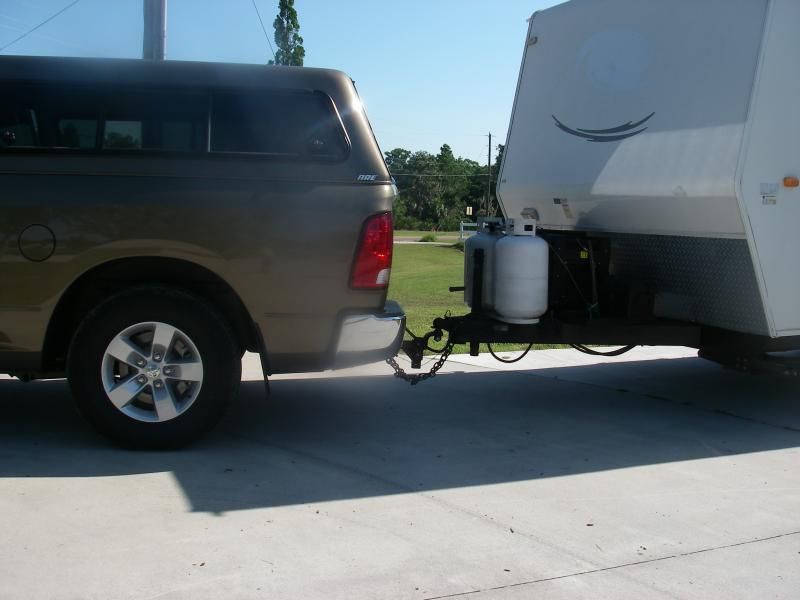 It dropped the rear 2 1/2" on hookup. The Timbren bumper stops are contacting the bottom with a tiny bit of compression. Immediately I did not like it. The truck moved a bit and did bounce around just a little bit. Way better than every other 1/2 ton truck I ever rode in while towing. It was not right for me as I'm used to my old 2500 Cummins. It was reasonably stable at speed.
Power was fine. The engine is more than enough to pull and pull well. I used tow-haul mode on this test and was shocked at how high the rpm's were. The sound is not "manly" like my Cummins. I am spoiled. This thing sounds cheesy at higher rpm's. This truck needs a lesson from Harley Davidson. Throughout this test I was uncomfortable listening to it.
There is a bit of a squat so I watched rear tire temperature. Both went from 45 to 50 psi quickly. During test 2 with equalizer bars, they stopped at 49 psi but sure did rise more than I expected or ever saw.
You don't want to hear this stuff? Try this -
the fuel mileage sucked
.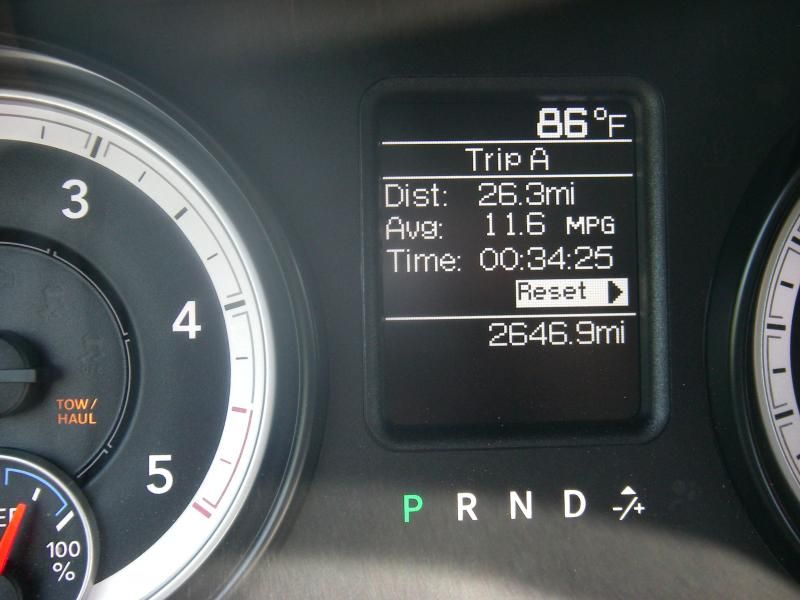 Now do I have your attention?
It's no better or maybe worse than my Cummins was. I was both shocked and disappointed. Not despondent. It's at least as good as my Cummins. I really expected more. The truck is oh so good without a trailer and I did read many other tests that spoke of higher fuel mileage. Maybe it was the tow-haul mode. It is a miserable thing that keeps you out of the higher gears, the rpm's up and seems oh, so busy.
Test two was with a new head, equalizer bars set just a little. The trailer also sat almost level. It looked like this.
See the large inverter and twin bottles? I set the bars to drop two inches. Do want the rear tires making solid contact. Make it light with lots of tension and the rear tires skip and tear off. Off I went with NO tow-haul mode this time.
Immediately I liked the lower rpm sound. Never on this same route did I ever get it to go into 8th gear. It will not go there but does try to hang onto 7th, rather than run in 6th. 3.55's for those interested. Went 65, went 70, watched and listened to the rpm's. Lower mostly but it can and does go up at times. Felt like I needed more pedal to keep the speeds up. Acceleration was no different between the modes. There's plenty of motor here.
I got agitated at an 18 wheeler doing 60 and hammered it down. Got to 80 mph towing and passed that sucker. Not powerful up there but adequate and it moved right around that truck. Tried hard to get to 8th. Could not do it. Anyway, here's the answer. Note there is no tow-haul light on this so I am sure it's the right picture.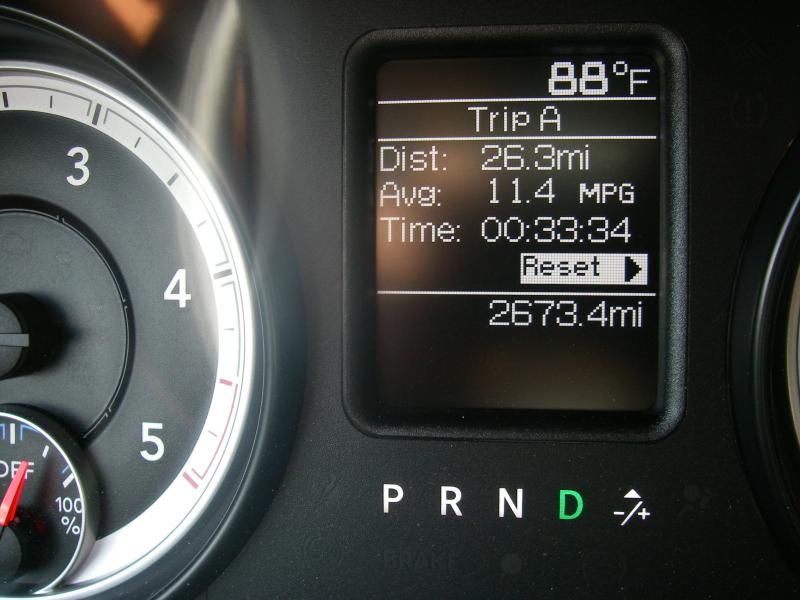 Couple tenths LESS in fuel mileage. 53 miles of tow testing for both you and me. I'm not happy. It's disappointing. Frankly, I never expected something like this. Wife is pissed. I am making sure she knows it's not significantly worse than the Cummins. It also does tow this trailer with great control if you use the equalizer bars. Without those bars it's not nearly as stable but usable.
Oil temps. stayed in the 240 degree range, Coolant was in the 220's. I have more but his is enough. It tows like a 1500 with plenty of engine to get the job done.
Knowing what I know now, I would still have bought this configuration. My old truck was high mileage and over 10 years old. The new Cummins would tow better with the same mileage but not towing would be much less fuel mileage. It would also have cost more to have bought it. Could have gotten another manual transmission with the Cummins. That I miss. That and the "manly" sound of that combination instead of this VM whining.
You have cheese to go with this whine?